Opera5&6 & Netscape6.x, 7.x, Mozilla 1.x and Mozilla Firefox 0.x
Please download FlashGet Opera Plug-in 1.1. Install this plug-in into ...\Opera\Plugins or ...\Netscape6\Plugins or ..\Mozilla\Plugins or ..\FireFox\plugins directory.

Netscape 6 does not support the same click monitoring methods used by FlashGet with previous versions of Netscape. They left out the features that have been there since Netscape Version 1.0. For now, you must either:
Right click the links and do "Copy Link Location".
Or, the plugins used for FlashGet's Opera click monitoring do work in Netscape--with some quirks and differences from the other click monitoring. Just install FlashGet's Opera plugins into the ...\Netscape\Plugins directory.

Menuitem "Download by FlashGet" in Mozilla FireFox
FlashGot is an extension for integrating FlashGet and Mozilla Firefox 0.9 or later. It is available on Mozilla Update. Note that some antivirus software may incorrecly claim that it has a virus, as it uses Visual Basic Script (.vbs) files when integrating with Internet Explorer. Thanks Giorgio Maone.

Menuitem "Download by FlashGet" in Opera
see How Customizing Opera's context-menus.

Opera 7
Install this plug-in into ...\Opera7\Plugins and enable it in Opera(Menu->File->Preferences...)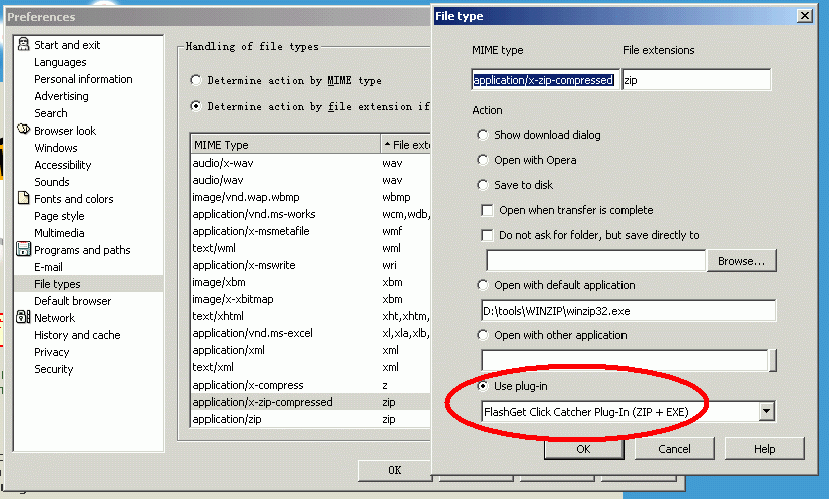 NetCaptor
Must use monitor method 2 in FlashGet(default setting), also need enable "Brower help object" in netcaptor options/general.